Disney is finally entering the streaming service market with Disney+! They are having an investor day tomorrow to reveal more information about their service. This will without a doubt have some impact on their stock. However, we will talk about that later, now let us check out what the possibilities are for the effect of Disney+ on Disney's shares are!
How did Disney+ come to existence?
The year was 2016 and the month was August when Disney bought a minority stake in BAMTech for 1 billion dollars. They had an option to acquire a majority stake in the future which they did in 2017 for 1.58 billion dollars and increased their stake to 75 percent. However, they were not going to stop there; they announced plans for a new direct-to-consumer service of its entertainment content.
Disney announced in December of 2017 their intent to buy major entertainment assets from 21st Century Fox.  This acquisition is intended to boost its content material for its streaming service.
Former Apple and Samsung executive Kevin Swint was appointed to be senior vice president and general manager of the new streaming service that is reporting to BAMTech CEO, on January 2018. Furthermore, in June former Walt Disney Studios marketing president Ricky Strauss was placed as president of content and marketing of the streaming service. And officially, on November 8th of 2018, Disney's CEO announced the name of the streaming service would be Disney+. In the announcement, it was mentioned that they are targeting to launch the streaming service for late 2019.
What will the pricing of streaming on Disney+ be?
Well, the pricing of the streaming service has not been released yet, but they are saying that the plan is to have a significantly lower price than what Netflix has since it will have far less volume than Netflix.
If you're looking at the regular Netflix prices, then Disney's streaming service will probably cost less than 12.99 dollars a month, considering Netflix has brought its prices up. Also, Netflix has other tiers to choose from which are starting from 8.99 dollars a month and rising to 15.99 dollars a month. Now we will have to wait to see what they will have to offer in terms of price.
What is Disney+ offering?
It is expected to have around 500 films from the Disney library as well as something around 7,000 episodes of Disney TV. They will also provide the entire output of the studio, animation, live action on it, and they will also include Pixar, Star Wars, and all of the Marvel movies.
And since their streaming service will be competing with Netflix, the strategy is going to be to produce more quality product, unlike Netflix quantity strategy. How will that strategy work for them? I do not know since a lot of people are subscribing to Netflix because of their large content offering.
Well, it seems Disney is dedicated to their plan to reach those same numbers of subscribers on their streaming service, by offering fewer things, but making sure its content is like Star Wars (which everybody loves). So Disney+ will be a place for all showy movies that are released by them. Also, it will, of course, have the classics of Disney's movie library.
Will Disney+ affect stock price?
Disney's battle with Netflix
There are a lot of different opinions on what will happen to their stock price. Well, everybody agrees on one thing; it will have a HUGE impact on the Disney stock, no matter if it's going to be good or bad.
One side is saying that they will get killed by Netflix since Netflix is the king of the streaming industry. They believe that they will be so far behind Netflix until they launch Disney+ that they just won't be able to catch up to them. Also, they are saying that they can't keep up with Netflix's content production.
The other side is saying that even though Disney is behind Netflix today, that doesn't mean they will be in the future. Since they own the best content and will have that same content on their streaming platform, they have a chance to be on top. Also, they have large cash flow from other operating segments, and with that cash flow, they can fund their rapid content production.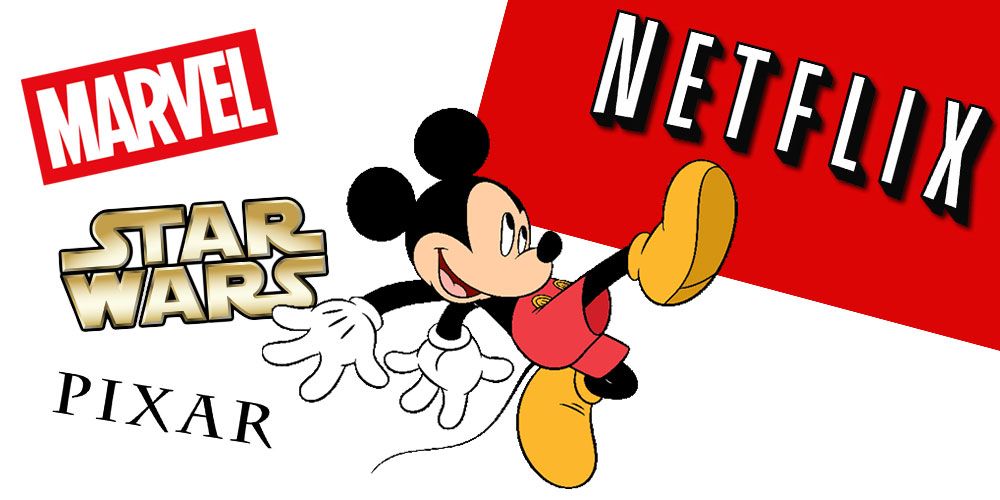 For now, we don't know if Disney+ will be bundled with other streaming services from Disney like ESPN+ and Hulu. But it is certain that it will have more choices for the consumer to choose from.
Its effect on Disney shares on Wednesday was, that it raised it by 0.6 percent in pre-market trading and it raised it by 6.6 percent in a year.
Now they are expected to present Disney+ at an investor day tomorrow, and with that, they will enter into a streaming service market. For now, Netflix is the big fish in the streaming business with 139 million subscribers. Apple has thrown its hat in the ring by announcing their own streaming service called AppleTV+. AT&T's Warner Media is also expected to launch their own streaming service this year. And do not forget about Amazon Prime since it's been in this game for years.
With releasing more information about their streaming service tomorrow, there will absolutely be price movement of Disney's share, now what the movements will be? It remains to be seen.
Final thoughts
Disney has finally realised that they can compete in the streaming business. Yes, it will be hard for them in the beginning, however with the content they have under their sleeve, I believe it won't take long for them to be one of the best. If you believe that they will be on top, then maybe investing in their stock now, wouldn't be a bad idea.