Asian
stocks
rally on Monday, thanks to China's announcement of their purchasing managers index (PMI) being higher than it was expected. What are the effects on the rest of Asia, and do they have the same results? Will this be an advantage in negotiations with the U.S.?
China's manufacturing data push Asian stocks rally
Chinese factory activity slightly recovered last month. Thus, boosting Asia's growing, but it maybe isn't enough thanks to the rest of the region being weak. China's PMI increased from 49.9 in February to 50.8 in March, which is its highest level since July 2018. Experts are suggesting that seasonal factors were involved. Since activity in March routinely picks up whenever the Chinese Lunar New Year falls in February. However, if the trend keeps going, it could help China's turnaround, which is what they were hoping after the massive fiscal and monetary stimulus. However, analysts are expecting more measures from China. This activity growth may have been sustained in the first quarter, thanks to the hostile environment exports had to go through. Also, the PMI data is showing us that the stimulus measures China has put in place from last year are finally starting to work. China could also use these good economic numbers as leverage in the negotiations with the U.S. by showing that the tariffs imposed by the U.S. can't hold them back.
Asian stocks rally
Asian stocks rally on Monday after the release of China's manufacturing data. The Asian stocks rally is taking their clues from Wall Street, with the S&P 500 posting its best quarterly gain in a decade on Friday. The U.S.-China trade war appears to be heading toward its ending, after some encouraging talks. Hopes that the U.S.-China trade war might be ending hopefully this month are allowing shares to start the quarter on a good note. Japan's Nikkei 225 index grew 1.6 percent to 21,539.75, and it's slowing down after new economic data showed that conditions are crumbling. The Shanghai Composite index rose 2.4 percent to 3,161.49, and Hong Kong's Hang Seng jumped 1.7 percent to 29,530.19. Rest of Asia, South Korea's Kospi grew 1.3 percent to 2,166.86, and India's Sensex added 0.8 percent to 38,970.73. Australia's S&P ASX 200 climbed 0.6 percent to 6,217. Also, stocks jumped in Taiwan, Singapore, and Thailand. Indonesia's stocks fell. Besides China's PMI rising to 50.8, also sub-indexes for exports, employment and new orders rose. Also, the index showing companies expectations for new business climbed to 56.8. In Japan, the central bank reported that the Japanese manufacturers are showing business worsening in March. Besides that, the Japanese Nikkei index is falling at its fastest rate due to demand weakening at home, but also in the rest of the world. Asian goods producers are going to face some hardship from slowing growth in China and Europe. Also, global trade risks are still strong thanks to the
US-China trade war
.
Yuan, the Australian dollar rose with Asian stocks rally
Chinese factory activity growth helped the
Yuan
and Australian dollar rise on Monday. Also, it provided some additional options for investors, which gave the dollar a boost against the
safe-haven yen
. Surprising growth of China's PMI in March is a sign that stimulus measures are gaining some traction. The PMI rose to 50.8 in March, beating the expectations from economists that forecasted it to be 49.5. Investor gained some confidence after the announcement about China's PMI, which started the Asian stocks rally. Furthermore, the Australian dollar is really sensitive to changes in the economic outlook of China since it is its primary trading partner. As a result, it has jumped 0.35 percent to $0.7122. The Chinese yuan profited from the announcement by rising 0.25 percent to $6.707.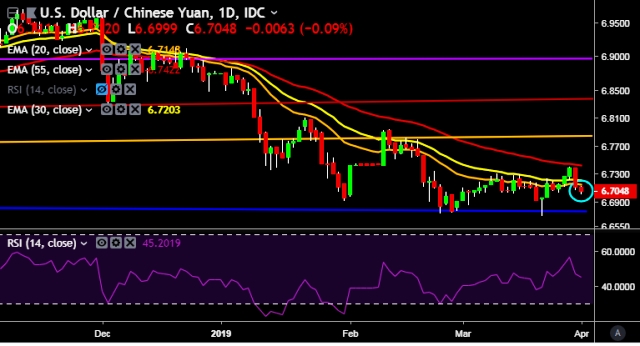 Rest of Asia not as successful as China
Factory activity in Indonesia, Vietnam, and the Philippines have slowly grown, but economies that have a more significant impact on the region haven't had good results. Japanese factory activity decreased less in March than in February, but output has fallen stronger then it has in three years. South Korea's manufacturing has been declining for five months straight. Also, corporate spending in Asia is expected to fall, with the capital investment of Asian companies seen slipping 4 percent this year on average.
Final thoughts
It seems that China's effort in bettering their economy with measures is finally working for them. However, they might want to impose new measures to keep the results growing, as they intend to. The rest of Asia is going to have to take a look at what China is doing and try to help in the Asian stock rally. Also, this can be a considerable advantage for China in the next negotiations with the U.S. With this; they can prove that the U.S. tariffs did not affect them. Furthermore, pushing them into a final agreement that could benefit China.